Soundsgood makes curated music playlists fun again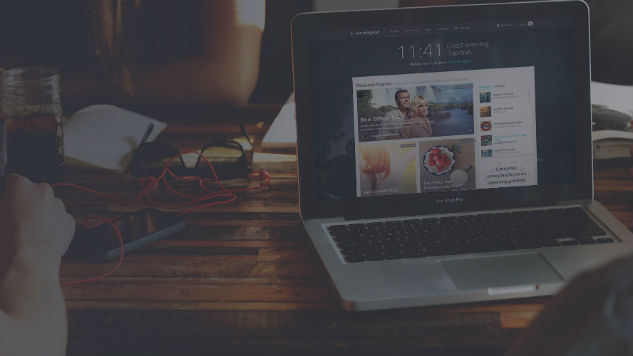 I heard about Soundsgood, a music service that recently launched as a desktop app worldwide, and decided to check it out to see if it was something unique. With a focus on influencer playlists, i.e. playlists curated by an artist, radio station, DJ, etc. well-known, the application allows you to manage playlists on all music platforms. Whether you're a musician curating music for your fans or a burgeoning social media influencer looking to build a following for your playlists, Soundsgood makes curating playlists simple by organizing the process on one platform.
Three men who share diverse experiences in the music industry – from Warner Music to Accenture and Havas Worldwide – founded the company, based in Paris, France. The company's mission is pretty clear: to make influencer playlists universal. Although it launched worldwide this month, Soundsgood has been present in France since November 2014. To date, more than 3,900 top influencers use the service.
I don't exactly consider myself an "influencer" when it comes to music, so I was curious to see how the average user might find this useful. I signed up for Soundsgood, started exploring, and quickly learned that there were a few key features that made it fun, both for me and for an influencer. In fact, as I got used to the platform, I could see how totally useful it could be for an influencer looking to engage with their audience on social media.
As long as you have a Soundcloud, Deezer, Spotify and YouTube account, you can automatically post a playlist to all channels. You don't need to create an individual playlist for each service – you create it on Soundsgood and sync it between your channels.
When adding a track, I was a little confused at first because there is a tab for each streaming account where you search for a song in the selected service's library. I was confused, wondering what would happen if a song I wanted to add was not available for one of my channels. But what's interesting is that you can make certain tracks not play on any of your channels. If a song was not available on a particular channel, the playlist would still exist, but that song would not. I thought it would be very unlikely that you would encounter this problem, given that the vast music library services such as Spotify and YouTube give you access.
Also, when you create a playlist, you can select the tracks you want to play on each channel. So, if you didn't want a particular song to play for your audience on Soundcloud, you wouldn't select the track for Soundcloud. If you wanted the live version to play on your YouTube channel, you need to select the live version track for that particular channel.
Creating a playlist is actually quite fun because you can get as detailed as you want. You have the option to add a header image and a profile image; add a title and a subtitle; as well as add a description of the playlist. After adding the tracks, you can categorize the playlist by mood, genre and add tags for better SEO. You can even add filters specifying whether the playlist is good to listen to while you're at work, or filter it by whether or not it contains mostly recent or current tracks.
Once your playlist is ready, you select all the channels you want the playlist to be active on. You can even choose to make it a public or private player. Press "publish" and viola! All your social channels are synced.
Adding new tracks to a playlist is also very simple. You can easily update all information and sync playlists across all your channels for automatic update. Whether you want to rename the playlist, add new tracks, or rearrange it, it automatically saves and updates everywhere.
Like all streaming services, Soundsgood lets you embed a solo player directly on your website and social media. This makes it easy to keep your audience on your current page. The single player mode also has a "smart follow" button feature to collect new fans and subscribers on the spot. Additionally, anyone can stream the player and save it to their own streaming account.
Although the feature is not yet available, Soundsgood is planning a built-in analysis tool. This will allow users to read relevant data about their audience to track growth and performance. The company also says it plans future partnerships with Bandcamp, Rhapsody/Napster and Microsoft Groove, and more.
I'd love to see the web design and UI get a makeover, but overall it's well organized and I can see how an influencer would find their services useful, especially when launching the follow feature performance. If you just want to be able to update all of your personal playlists at once, Soundsgood is here to make it easy.